The Champions League is down to its final four teams. Europe's best four, yes, including Villarreal. Two from England and two from Spain. Manchester City, Real Madrid, Liverpool and Villarreal will try to secure their place in the final at the Stade de France on May 28.
We'll look at how these teams match up and what to expect.
Manchester City vs Real Madrid
The standout fixture in many people's eyes. There's a lot to unpack here and a few questions too. Ancelotti puts out a team you could probably guess but how much overthinking will Guardiola do this time? He has to play a defensive midfielder, at least. City will quietly be the more confident team going into this tie. They have the superior squad and Pep Guardiola's side came out on top in both legs when they last faced Real Madrid in 2020.
There's a love story that exists between Real Madrid and the Champions League, no one can doubt that. However, when you strip away fondness and sentiment, Carlo Ancelotti's men are not the force they used to be. They were largely outplayed in both legs against PSG and then their quarter-final second leg against Chelsea. Somehow they found a way. Some of it or even most, down to individual brilliance. Modric bellying his age, 36 years old, (older than Wayne Rooney, like a lot of you needlessly pointed out on Twitter) the point is, he's old and still so good. Also, Benzema was well… Benzema. 
READ ALSO: Bayern win 2021/22 Bundesliga title – Can any team end their dominance?
Benzema Time
There's no escaping that Madrid goes as Benzema goes. The best player on the team, the best player in the Spanish league, Monster mentality, absolute lethal finisher. He has 12 goals in nine Champions League appearances this season and he is ably supported by his partner in crime Vinicius Junior. The Brazilian winger has seven assists in the Champions League this season, the most of any player left in the competition.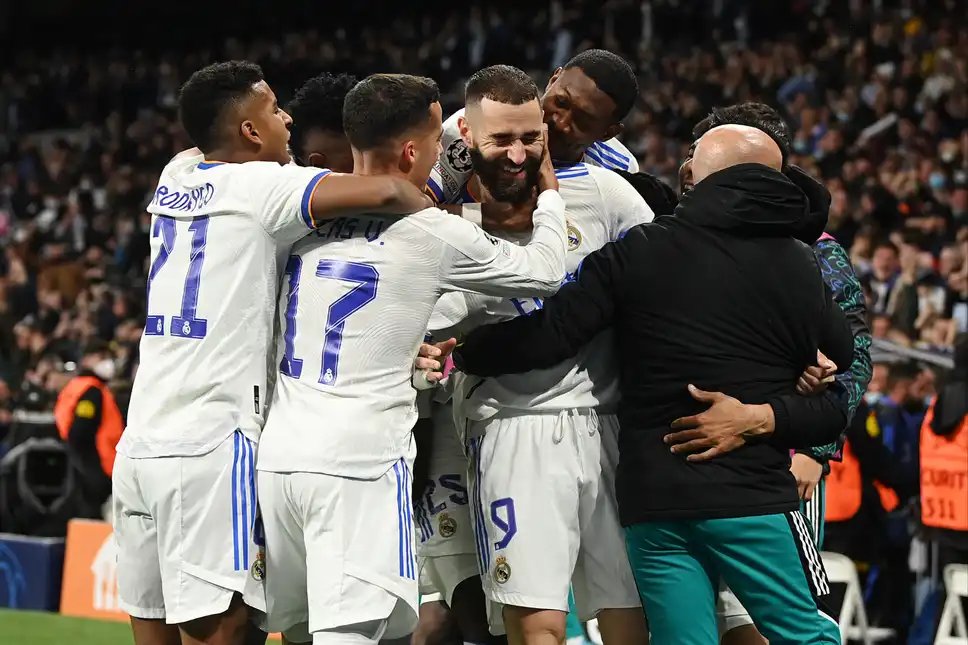 Pep's Options
For Manchester City, the mere fact that Ruben Dias could return In central defence is huge news.  Dias will probably start alongside Laporte depending on how John Stones' recovery goes. City's defenders will have to maintain the same level of concentration that they had against Atletico Madrid. Especially when up against a Real team that don't have to play well to win.
Pep will have his hands full picking a team for this one. A few first choice regulars are struggling with niggles, knocks, maybe even bruises. Kyle Walker has not trained in a week and he could have been detailed with stopping Vinicius. I'm not sure the sight of Vinicius running at Cancelo is one that City fans are looking forward to. That's not a knock on Cancelo who, by the way, has been an excellent performer this season.
City's front line can look anywhere from blunt to electric on any given day. However, It is an area where Guardiola is spoilt for choice. Options include Phil Foden, Raheem Sterling, Bernardo Silva, Riyad Mahrez, Jack Grealish and Gabriel Jesus. Jesus made a case for himself by scoring four in the 5-1 win against Watford.
I think it's safe to say that this could be a very entertaining and open encounter. Kevin De Bruyne has all it takes to decide this game by himself but so does Karim Benzema. Both keepers are also in top form and I expect them to be quite busy. As far as the flow of the game, expect City to dominate possession and try to create openings. You can always count on Real to seize the moments.