The pass-first NFL is filled with dynamite quarterbacks who populate the league's plentiful
advertisements due to their ability to produce points.
They`re are all brand names: Brady, Rodgers,
Mahomes, Wilson. The list goes on and on.
But these guys aren't throwing the ball to themselves. Every passer needs a receiver to complete
this majestic process — and that chemistry is what we're here to study today.
Who are the NFL's best pitch-and-catch combos right now?
With the help of Next Gen Stats, we're sorting through these pairings to compile a list of the
league's premier connections. The stats can tell us a lot about the ability of these duos, perhaps
more than any other examination.
A few things jumped out from the numbers: Kyler Murray has been excellent at exceeding
expectation when targeting his receivers. He's over +13 percent when targeting A.J. Green and
Christian Kirk, and stands at +8.5 percent when throwing in DeAndre Hopkins' direction. In fact,
no quarterback popped up more near the top of this list than Murray, Patrick Mahomes and Tyreek Hill have been productive in terms of total yards (608), but the Chiefs quarterback has also gone to Hill more than anyone on this list except for the Matthew Stafford-to-Cooper Kupp and Aaron Rodgers-to-Davante Adams
connections.

In an attempt to compile the best possible ranking in the here, we're also relying on total expected
points added, which helps measure both how productive a pairing is and how efficient it has
been. That's why combinations like Jalen Hurts and DeVonta Smith don't make the list,
as they currently own a -4.7 total EPA.
Then again, it's not just about the numbers. Rodgers and Adams don't have an extremely high
total EPA through eight weeks, but we'd be foolish to leave that pairing off the list. The tape
speaks for itself.
Alright, enough preamble. Here are the NFL's top 5 passing duos through eight weeks of the
2021 season.
1| JOE BURROW AND JAMAAR CHASE (CINCCINATI BENGALS)
The intensely debated decision between drafting a top tackle to protect Joe Burrow and selecting
the quarterback's old running mate at LSU feels like it happened years ago. Burrow and Chase
have formed an incredibly explosive duo in their first seven games together in the NFL, racking
up 786 yards and seven touchdowns on 38 completions. For you math wizards at home, that's an
average of 21.5 yards per reception, an incredible clip that has Chase atop all pass catchers in the
metric.
It's built on the big play, of course, with Burrow and Chase teaming up to record more yards (354), yards after catch (91) and touchdowns (4) on deep passes (20-plus air yards) than any other duo in the NFL this season. Chase has quickly established himself as a game-breaking talent in the NFL, with this past Sunday's 82-yard touchdown reception against proving he's not just a winner of downfield one-on-ones, but a catch-and-run threat who singlehandedly flipped the momentum in favor of the Bengals in the franchise's biggest win of 2021.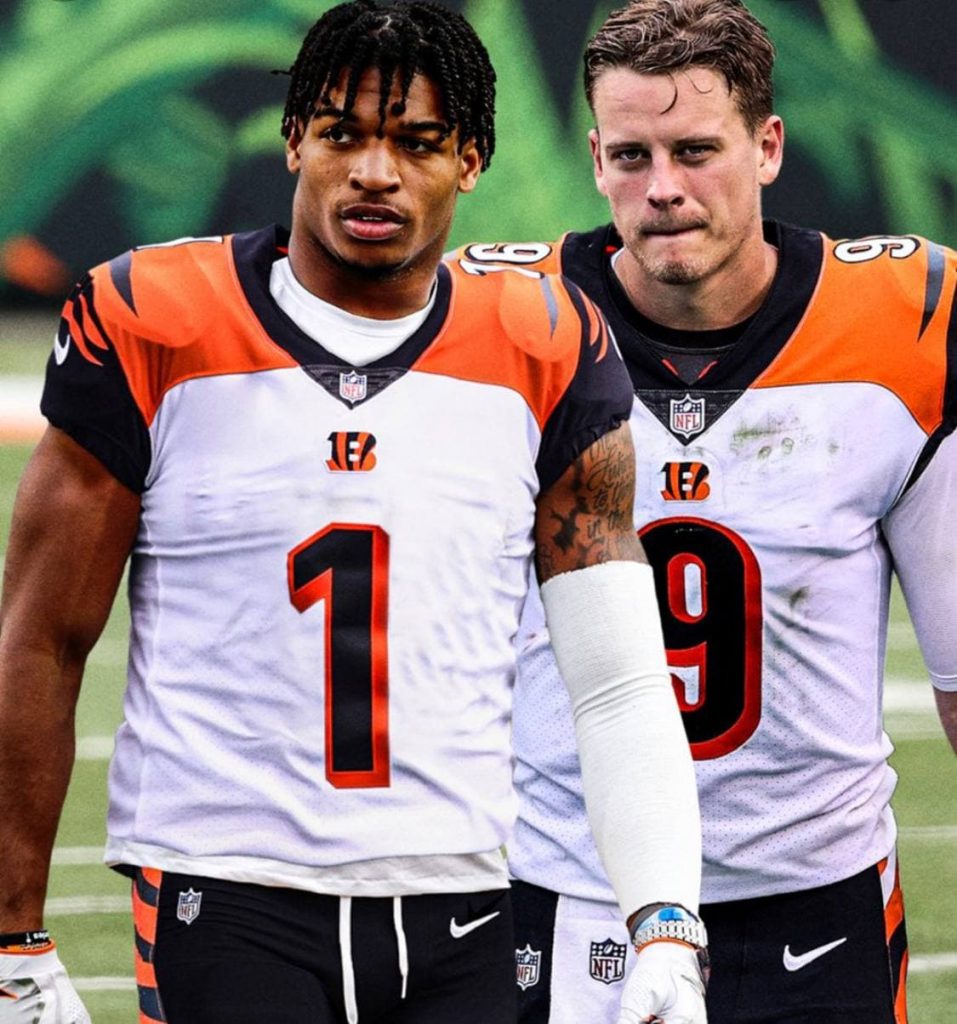 2| MATTHEW STAFFORD AND COOPER KUPP (LA RAMS)
Get your brunch jokes in now, if you must, but those morning meetings are paying off for
Stafford and Kupp. The duo has teamed up to record the most receiving yards(924) and
receptions(63) between quarterback and pass catcher in the entire league through seven weeks,
and Kupp leads the NFL in receiving touchdowns(10) . Their total EPA is second only to that of
Burrow and Chase. The Rams' dynamic duo is especially potent downfield, with Stafford posting
the NFL's highest passer rating (152.1) and completion percentage over expected (+37.2) on
deep passes to Kupp (minimum 10 passes). Stafford has unlocked another element of Los
Angeles' offense, and Kupp has been the primary beneficiary to this point.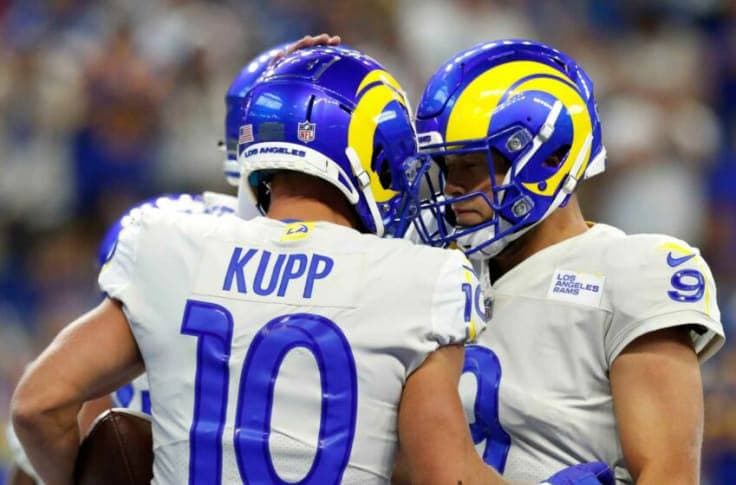 KYLER MURRAY AND DEANDRE HOPKINS (ARIZONA CARDINALS)
Murray and the Cardinals have been incredibly explosive, so much so that his work with three
different targets — Hopkins, Christian Kirk and A.J. Green — rank among the top 11 in the league
in total EPA. His most lucrative connection has been with Hopkins, who has already exceeded
his receiving touchdowns total from last season (six) by snagging eight in as many weeks.
They're exceeding expectation at an impressive rate of +8.5 percent and own a stellar passer
rating (137.4) when working together, too. And when it comes to converting when they
absolutely must, Murray and Hopkins have been money, tying with Carson Wentz and Mo Alie-
Cox for the most short-touchdown completions (defined as 0-9 air yards, per NGS) on third
down of any pairing in the league with two. This is shaping up to be a potential MVP season for
Murray, who wouldn't get there without Hopkins.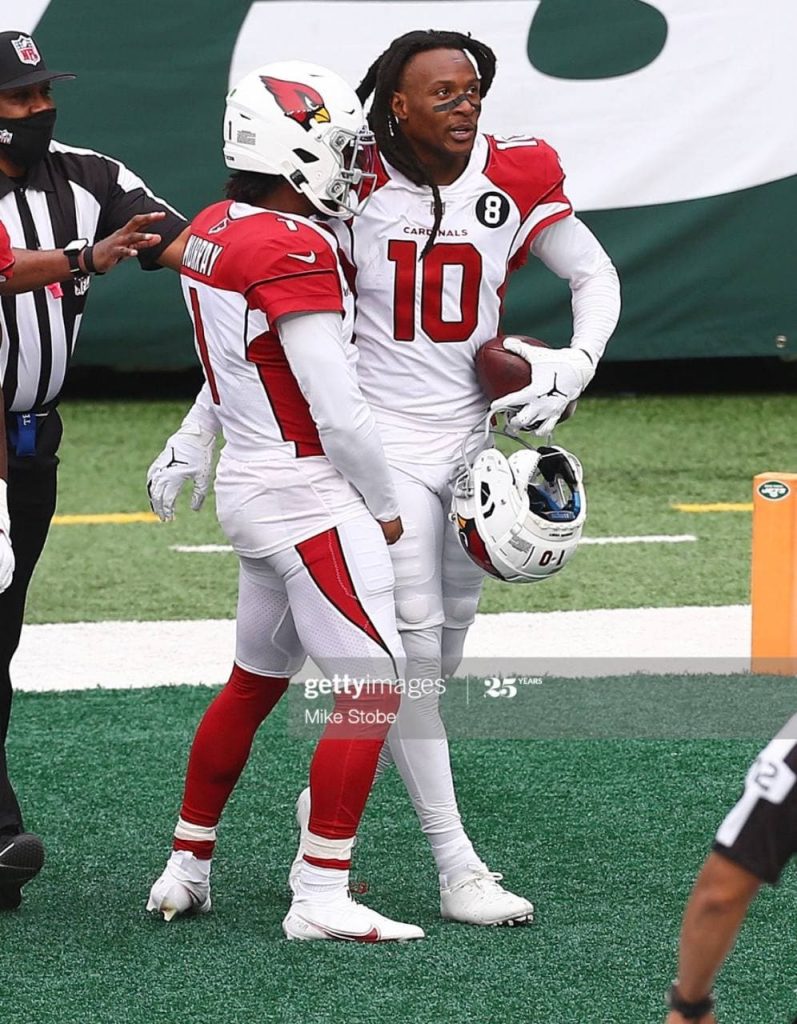 AARON RODGERS AND DAVANTE ADAMS (GREEN BAY PACKERS)
I'm diverting away from relying as much on total EPA for this selection; while Rodgers and
Adams don't rank in the top 20 in the category, they've still been spectacularly productive.
There's a reason why the betting line swung multiple points when Adams hit the COVID-19 list
before this week's Packers-Cardinals tilt: He's the lynchpin to Green Bay's passing offense.
Rodgers has targeted Adams 73 times, the second-most targets to any one pass catcher behind
only Kupp. They've produced what we've come to expect from this duo: 52 completions, 744
yards and three touchdowns. They're also exceeding expectation by +6.7 percent of completions,
and though their touchdown total isn't quite as high as we might expect, it doesn't take more than
a game's worth of tape to understand how vital Adams is to the Packers' offense. He remains a
premier receiver playing with a future Hall of Fame quarterback, and they're continuing their
stellar careers spent together powering Green Bay's air attack.
TOM BRADY AND MIKE EVANS
This combination has produced some interesting Next Gen results since they began playing
together last year. At one point in 2020, Evans was dominating the numbers when it came to
touchdown receptions from 5 or fewer yards from the line of scrimmage, illustrating his elite jump-ball skills, and he's doing it again in 2021. Tampa Bay is finding success by matching up Evans with smaller defenders, leading to the most receiving touchdowns (six) from a receiver aligned wide of any quarterback-pass catcher duo this season. Overall, they've hooked up 39 times for 544 yards and eight touchdowns, with Brady boasting a blemish-free interception total of zero on throws to No. 13. They're not quite completing as many passes as expected, but we can overlook that when comparing it with their total EPA of 30.2 — tied for the fifth-most in the NFL among quarterback-pass catcher duos. Brady knows at this point where to go when Tampa Bay gets close to the end zone, and it's paying off for the one-loss Bucs.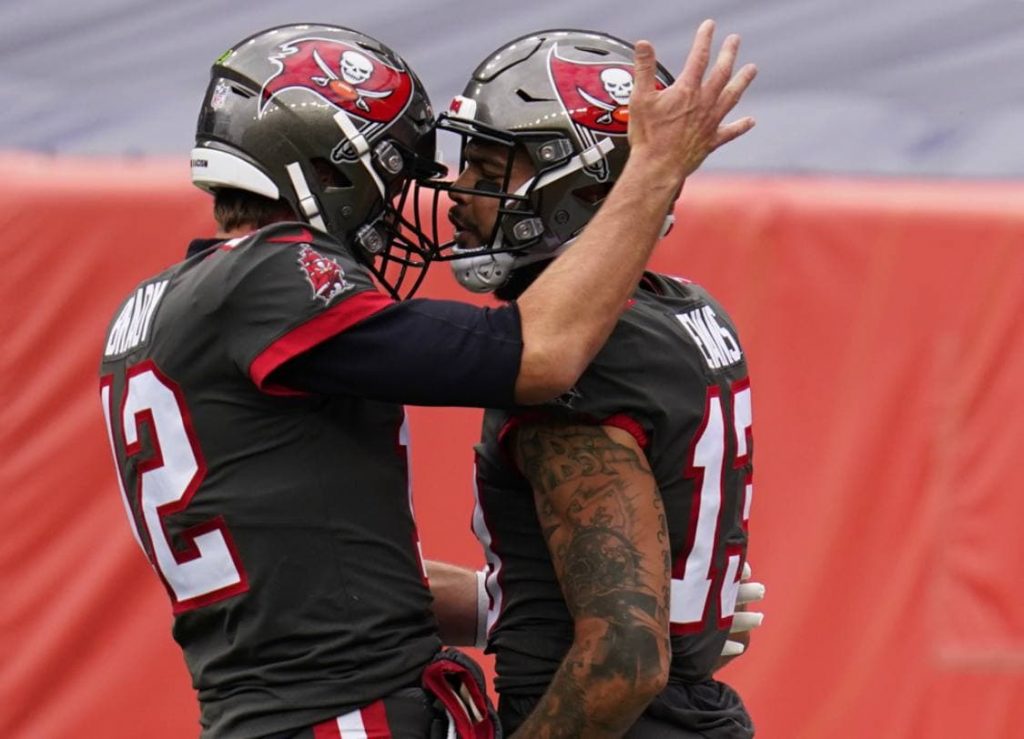 Read Also- Chelsea Give Up On Belgian Winger