In this series, we'll be highlighting the careers of some of the best footballing talents Africa has ever produced.
A look at the late Rashidi Yekini's footballing journey, and his impact on Nigerian football.
Africa has produced some incredible footballing talents in the past. From strong, technically gifted attackers to legendary midfielders, defenders and daring goalkeepers, the continent has had it all.
However, very few represented what it means to be African more than the late Nigerian goal king himself, Rashidi Yekini.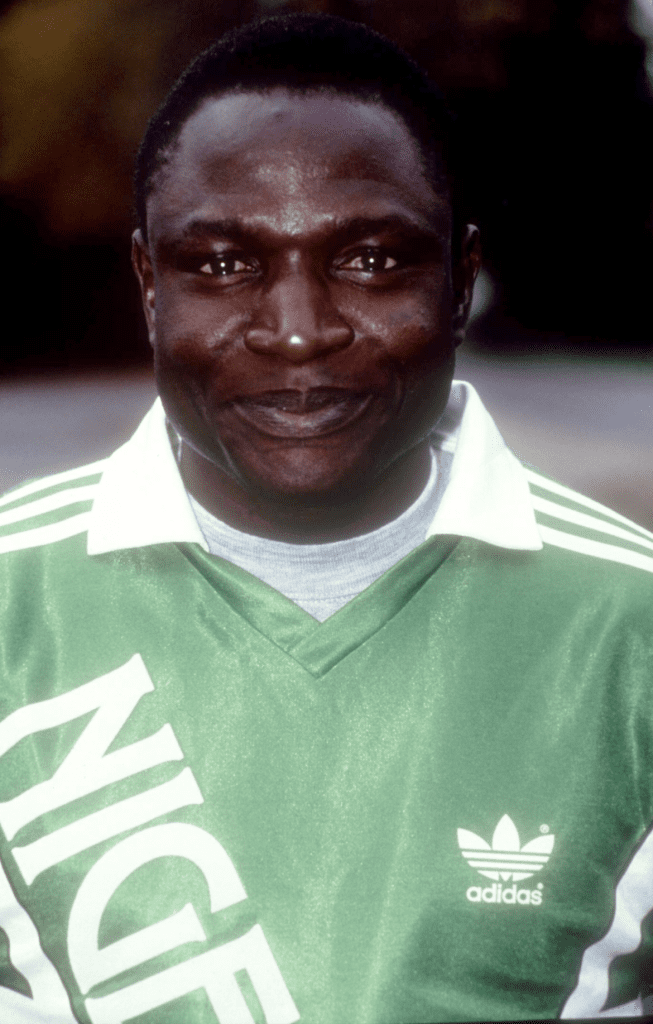 A tall, energetic and fast striker with all the strength in the world to beat defenders physically, and the finishing technique to find the net consistently – Yekini was a menace. One of the most prolific African strikers of all time, with over 400 recorded goals after playing in 3 continents.
Rashidi Yekini – Formed In The Nigerian League
Yekini, who born on the October 23rd, 1963, (exactly 23 years after Brazilian football hero Pelé was born), was not supposed to be a footballer, he started his teenage life as a welder's apprentice, but, as soon as he discovered his love for scoring goals on the football pitch, welding became a distant option for him.
He started training around Kaduna before catching the eyes of scouts, and soon he signed for UNTL Kaduna in 1982.
He scored 12 goals in 30 appearances for the local Kaduna club. A year later, at 21, he signed for the then star-studded Shooting Stars FC of Ibadan (now 3SC), and that was where he truly exploded in the local scene in Nigeria.
Rashidi Yekini – Shooting Stars Stint
According to a Segun Odegbami, who played alongside Yekini at Shooting Stars, "it took only 2 training sessions for Rashidi Yekini to guarantee his place in the team". – That was how assured he looked in front of goal despite his clumsy look on the pitch.
His two-year stint with 3SC yielded 45 league goals and a league title, and it was with Shooting Stars he got his first Nigerian national team call up. He didn't score his first goal for the national team until 1985 against Kenya in a 3-0 win in a 1986 World Cup qualification match.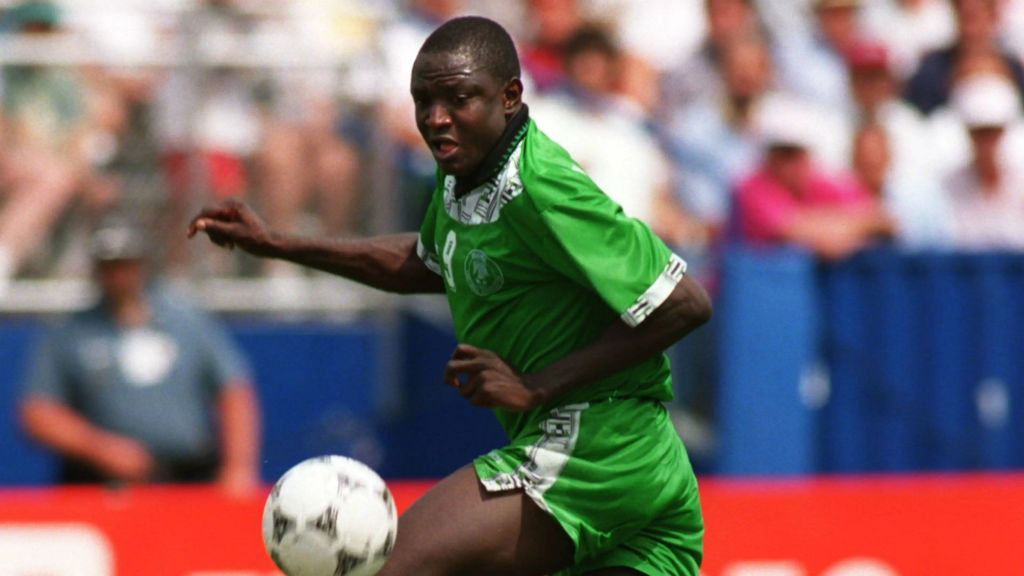 The executives of Shooting Stars dissolved the club, but Yekini's club career continued to progress locally. He joined Abiola babes of Abeokuta after the club's promotion to the Nigerian league.
Yekini was at the forefront of the club's 3-year domination of the Nigerian FA Cup, which yielded two FA Cup trophy wins. In total, he scored 80 goals for Abiola babes before moving to Côte d'Ivoire to join up with Africa Sports Club in 1987.
Yekini's fame, experience and expertise grew after he left the shores of Nigeria. He still remains one of the best strikers in the history of Côte d'Ivoire club.
Rashidi Yekini In Europe – Vitoria Setúbal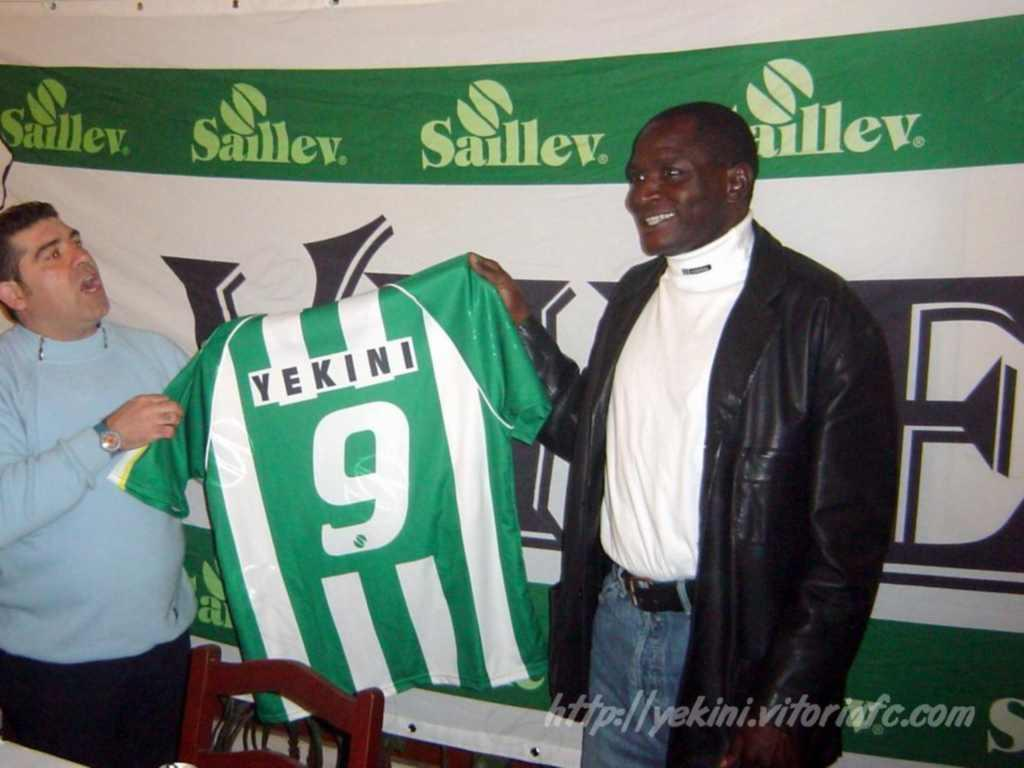 However, it was with Vitoria Setúbal that he truly reached his peak. Rashidi Yekini scored 94 league goals in two spells with the Portuguese club. He became the second Nigerian to win the Bola de Prata in 1994 (Golden boot award) in Portugal, after Nigerian striker Ricky (Richard Owubokiri) won it with Boavista FC two years earlier.
Rashidi Yekini won the 1993 African Player of the year, beating the legendary Abedi Pele and Tony Yeboah of Ghana. However, 1994 was his most iconic year as a Nigerian footballer and also at club level.
AFCON Glory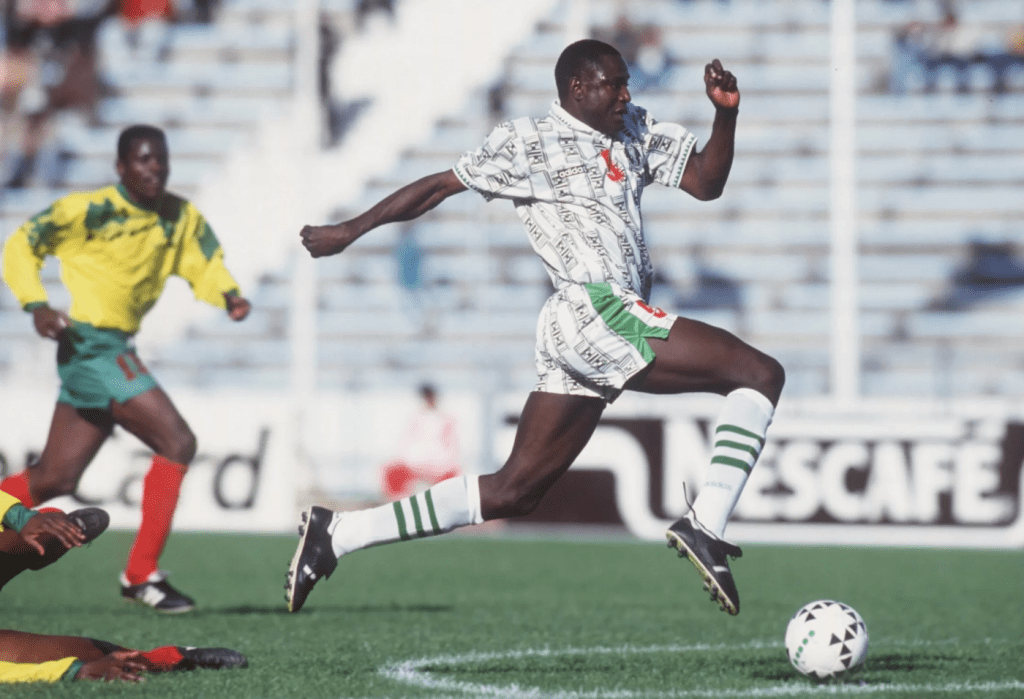 He led Nigeria to the 1994 AFCON trophy in Tunisia and also won the Golden Boot in Tunisia after scoring 5 goals in the tournament.
Despite not scoring in the final against Zambia, Yekini was named player of the tournament as his brace led Nigeria past Zaire in the quarter-finals, He scored the second goal in a 2-2 draw in the semifinal against Côte d'Ivoire and also converted the winning penalty to beat the Elephants.
Rashidi Yekini's Iconic Moment
Rashidi Yekini famously scored Nigeria's first ever goal at the 1994 FIFA World Cup in the United States. An emotional Yekini emotionally celebrated inside the opposition goal, grabbing the net while crying, "it's me! It's me" – That photo remains one of the most iconic in the history of the tournament.
Yekini endured a troubled spell at Olympiakos where he only appeared four times, scoring twice. He also had brief spells at Sporting Gijon, Zurich, Bizerte, and Al-Shabab of Saudi Arabia before returning to Côte d'Ivoire with Africa Sports Club of Abidjan in 1999.

He returned to Nigeria with Julius Berger in 2002, scoring 10 league goals, but he retired at 41, after the end of his 1-year contract with local Nigerian side Gateway FC.
Yekini retired as, and still is, Nigeria's all-time leading goalscorer with 37 goals.
Despite all his achievements on and off the pitch, the last few years of his life were filled with controversy, illness and betrayal by the Nigerian Football Federation.
Rashidi Yekini inspired a generation of African strikers, especially in Nigeria. A man known for his calmness off the pitch and his strength, passion and energy on it, he was the perfect footballer. Yekini died aged 48, in Ibadan after being ill for an extended period of time. He was buried in Kwara state, Nigeria.